The EASE factory school is your partner in the growth of your company
In an exceptional setting, the EASE Factory School offers its customers 4300 m² of premises, including 2000 m² of fully equipped clean rooms that reproduce an environment that complies with the GMP standard.

Controlled Access Zones -CAZ
- The process areas allow the implementation of three manufacturing processes for dry forms, sterile liquid forms and upstream/downstream production of biomedicines.
- In the non process areas, the steps of preparation for production are carried out: dressing, weighing, formulation, microbiological quality control of products and the environment, washing and autoclaving.
- Two showrooms equipped with all the utilities necessary for the operation of the machines can accommodate process development activities, the presentation of new products by equipment manufacturers.

Technical areas
The technical areas provide an introduction to the use and maintenance of all utility production units (pure water, pure steam, HVAC, effluent treatment, etc.) as well as to the acquisition of process and environmental data in a 4.0 context.

The seminar area, a prestigious setting for your events
Three equipped seminar rooms, a large exceptional meeting room and a vast exhibition and catering hall welcome you to organize your events, trade shows, management committees, training sessions, cocktails, scientific conferences, sales force meetings, forums....

EASE is a prestigious and original setting, a strong architectural gesture to sign your events!
Clean rooms process
In the 1st formulation step, the mixing of powders, excipients and active ingredient(s) must be subjected to granulation here, by wet process. This process phase leads to the production of the grain, which will then be dried in the Fluidized Air Bed.
Transfers are made by a pneumatic unloading unit to control the risks of cross-contamination.
Conditions similar to GMPs
You will be trained
You will be trained


Weighing training
Granulation training
Preparation of a homogeneous grain by mixing several compounds, by wet granulation
LAF drying
Cleaning in place of dry form manufacturing equipment
Training in equipment management
Qualification of equipment, maintenance in qualified condition and documentation management: quality documentary study
Equipment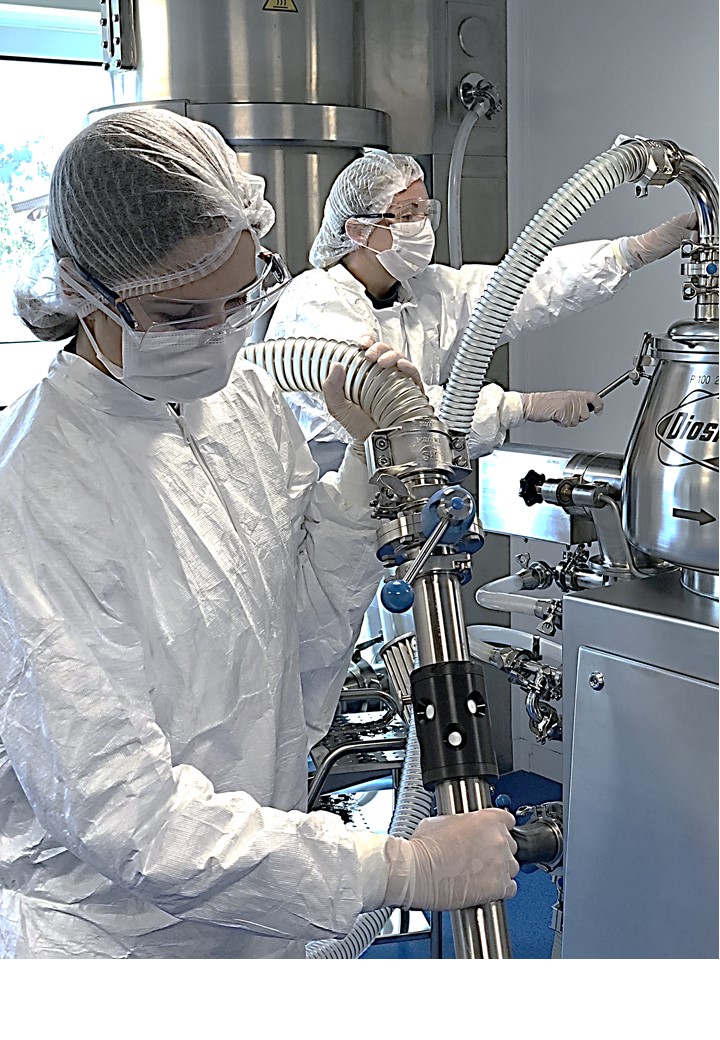 DIOSNA Dierks & Söhne GmbH granulation line, comprising a wet granulator mixer up to 40kg, a fluidized air bed of 40kg of powders and its CIP washing station in place
Freewitt pneumatic unloading unit
Mixer for Servolift containers of 25 and 40kg of raw materials and products already granulated
Shredder up to 40 kg/h Freewitt
Mettler-Toledo balances
Room
Solid dosage - Granulation
See all the images of this room