EASE news
INVITATION
Powder Process Training Seminar

PHARMALLIANCE
24 & 25 september 2019

Come and update your knowledge of the latest technologies and applications!
Places are limited and can be taken care of as part of continuing training.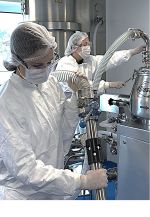 Program
Registration

EASE (European Aseptic & Sterile Environment Training Centre),
Campus d'ILLKIRCH • 80 route du Rhin, 67400 ILLKIRCH, France


········································
LEARN to develop a freeze-drying cycle

bIOPHARMATECH
The aim of the training is to acquire knowledge in freeze-drying, and to learn the methodology for developing a cycle, as well as to familiarize oneself with its various practical applications.
The program covers the design of the formulation and its characterization, through the fundamentals of freezing, sublimation and Process Analytical Technology- PAT. The training also covers the analysis of the freeze-dried product, and the advantages of the Quality by Design (QbD) approach.
The training is offered in French and English.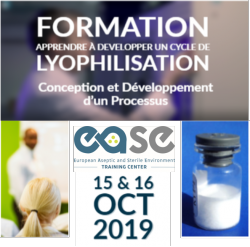 Agenda
October 15, 2019
Welcome of participants and opening of the training
- Introduction to freeze-drying technology
- Freezing the product - heat treatment
- Primary and secondary drying
- The basic concepts of a formulation
- Characterization of the formulation
- Measure temperature and process analysis technologies

October 16, 2019
- Cycle design (The traditional approach + QbD), industrial transposition
- Understanding and optimizing the freeze-drying cycle using SMART™ and ControLyo on-demand nucleation technology
- Analysis of freeze-dried products

www.intelligentfreezedrying.com

Registration process
Early registration fee: 1180€
Regular Price: 1380€
Book your place now info@biopharmatech.fr
Tel: + 44 (0)1962 826087
www.biopharmatech.fr/formations


The early registration fee is only valid if payment is received before June 30. Discounted rates are also available for groups and university staff.
Please note that the price of accommodation is not included in the package and that it is the responsibility of participants to make their own hotel reservations. A list of hotels near the congress centre is available.
Rates include gourmet breaks in the morning and afternoon, lunch and filing cabinet.

More info? Download the brochure!

15-16 October 2019
EASE (European Aseptic & Sterile Environment Training Centre),
ILLKIRCH Campus - 80 Route du Rhin, 67400 ILLKIRCH, France

········································
Students, companies:

register as soon as possible for the 1st Job Forum for the Health Industries







Companies: find the rare gem and give young graduates a chance!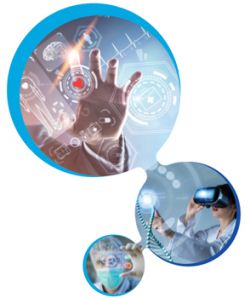 Young graduates looking for your first job: take the opportunity to find your first job!
Meet the HR managers of the sector and get started!

A date? September 23, 2019 from 8:30 am to 6:00 pm at the Maison de la Région Grand EST,
place Adrien Zeller in Strasbourg.


Day accessible only by registration
Information & registration